Online Video Platform for business
With VIXY, you are guaranteed reliable video hosting and lightning-fast video playback across the world. VIXY provides you with all the tools you need to manage, integrate,
publish, monetize, and analyze your videos.
Powerful video management, simplified.
Video Management
The VIXY video platform simplifies the process of uploading, editing, and publishing your media. The system is designed to work together with the entire organization from a single media library.
User Roles & Permission
VIXY supports a wide range of user permissions that depend on account permissions and access to specific features so all your employees and video partners can work from the same dashboard.
With access profiles, you control exactly who can see your videos and when.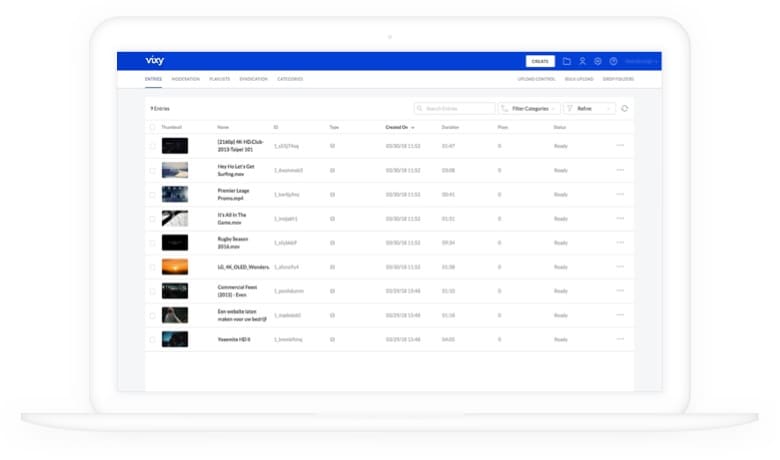 Reliable video hosting in the Netherlands (ISO 27001 certified & GDPR-proof)
We know like no other how important it is that your videos are safely stored and transcoded within a few milliseconds. Our premium infrastructure, which is hosted at NEP in the Netherlands, makes it possible to upload, process and distribute large quantities of video. From progressive to HLS and MPEG-DASH streaming, we guarantee that you get the best viewing experience on every platform and device. Our infrastructure is ISO 27001 certified & GDPR-proof.
For our worldwide delivery, we work with content delivery networks like Akamai, so you can rest assured that you are receiving unparalleled scalability and incredibly fast video playback— no matter where your viewers are.
Powerful software integrations
Shorten your time to market and save on cost-of-ownership with the VIXY API. The API gives you access to hundreds of video API services.
Integrate all processes, from video management to publication into your own website, mobile apps or your existing workflow such as an LMS or DAM system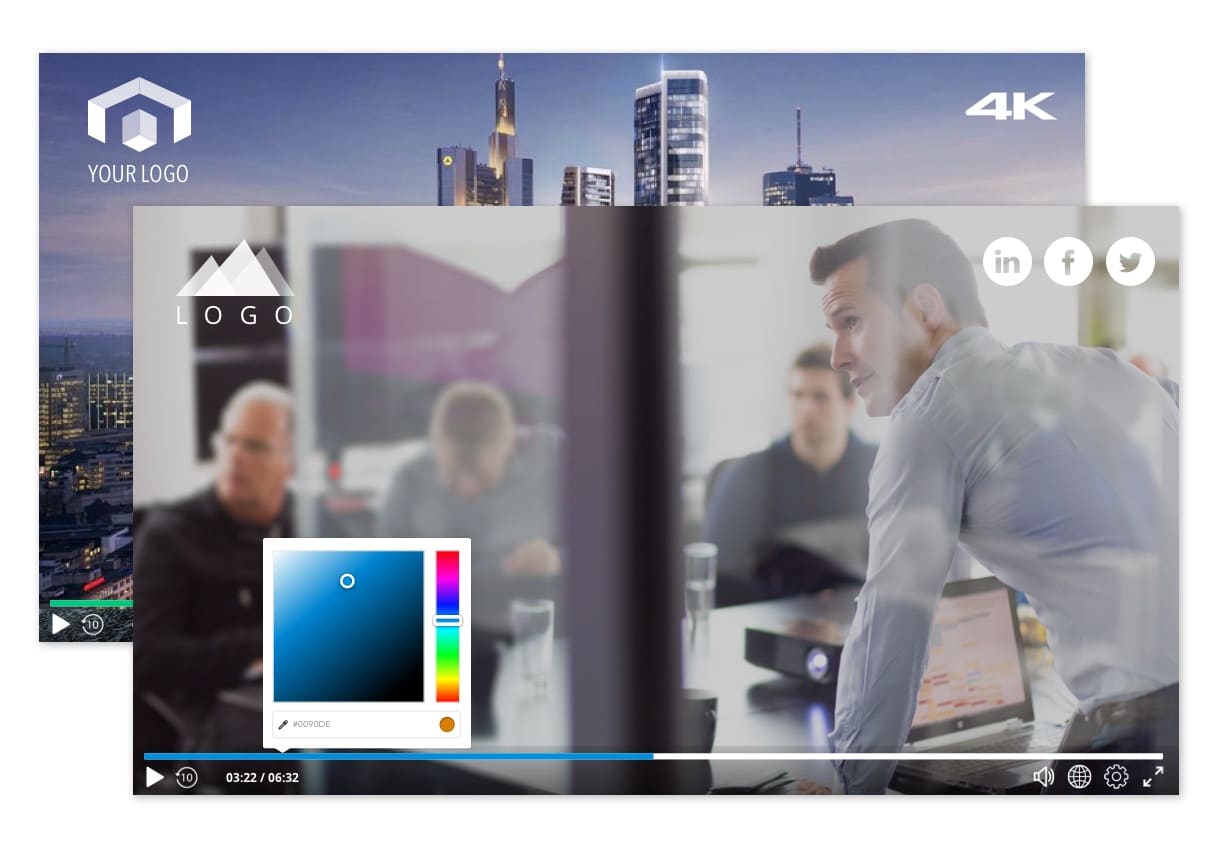 Your brand deserves its own branded video player
Using the fastest and most adaptable video player on the market ensures that your videos will be delivered to any device in the blink of an eye and will provide a unique viewer experience from anywhere in the world. This allows you to tell your story, your way.
Create your own branded video player that matches the look and feel of your brand. With VIXY video player studio, you can easily add your logo, subtitles, and interactions, so that you can bring attention to your brand beyond the confines of your website.
Create your own Video On Demand with the VIXY API
With the VIXY API you have access to hundreds of video API services. Integrate all processes, from video management to publication into your own website, mobile apps or your existing workflow
We make it easy to create your own video on demand channel. Via our API we offers the option to offer your videos safely and securely. This is useful for organizations looking to offer e-learning packages, train their employees, create a corporate communication channel or to start their own streaming service.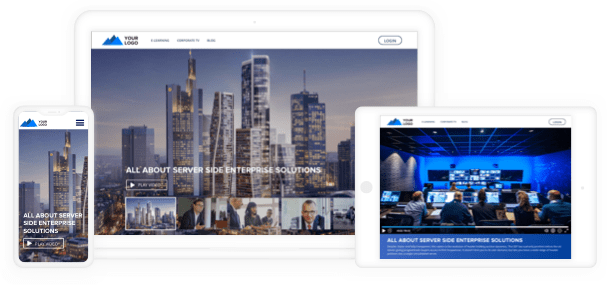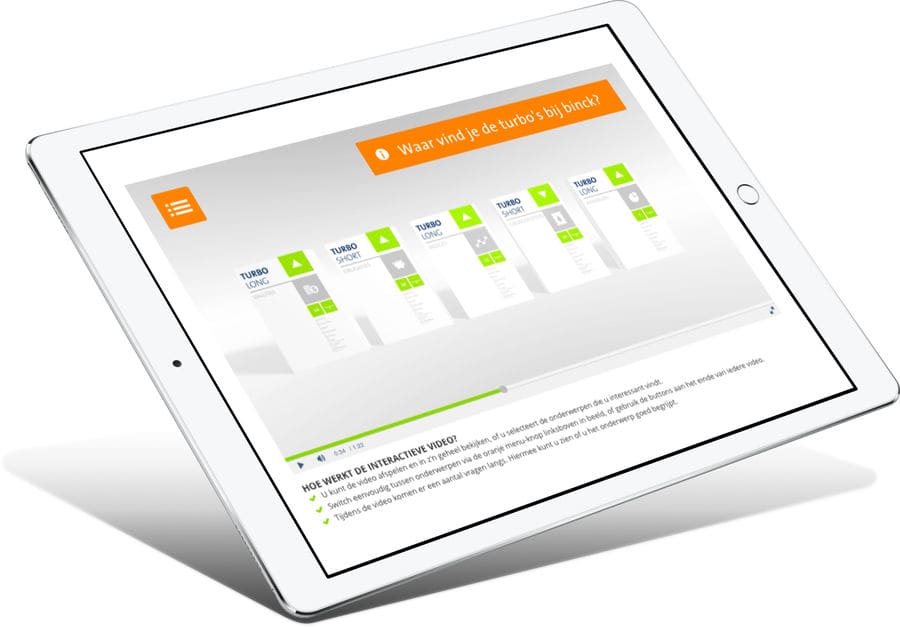 Keep your viewer's attention with an interactive video
Interactive video is an innovative way to reach your online targets, from encouraging user interaction, providing customer support to increasing time on site, leads and boosting online product sales.
Adding interactive elements is a simple process with our interactive player studio with timeline functionality. Thanks to the intuitive design and the drag & drop interface, you can create interactive and personalized videos in no time.
Optimize your advertising profits
From active advertising sales to programmatic buying, VIXY helps you optimize your campaign and achieve a higher CPM.
Add pre-rolls, mid-rolls and post-rolls to your video and link the VIXY-player with the ad network of your choice to enable automatic provision of your video content. VIXY works closely with the most important supply side platforms (SSPs) in the market and guarantees that you will obtain higher profits per impression.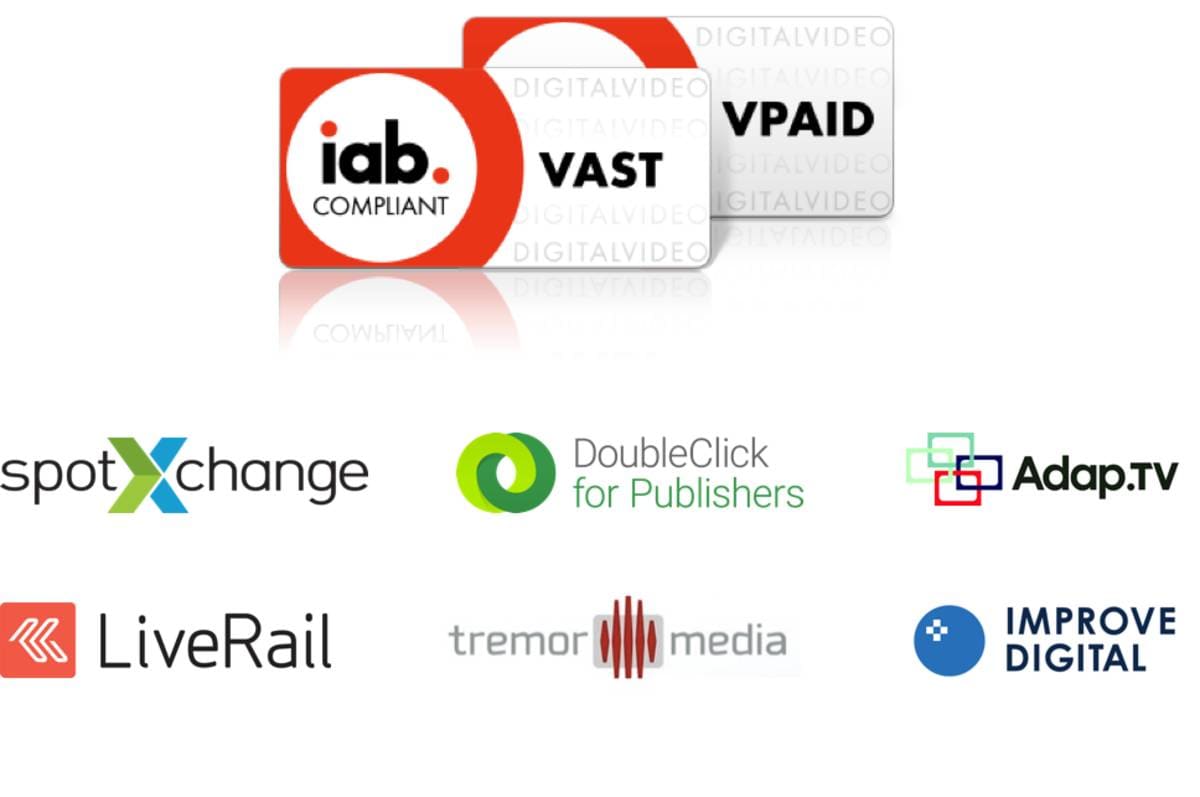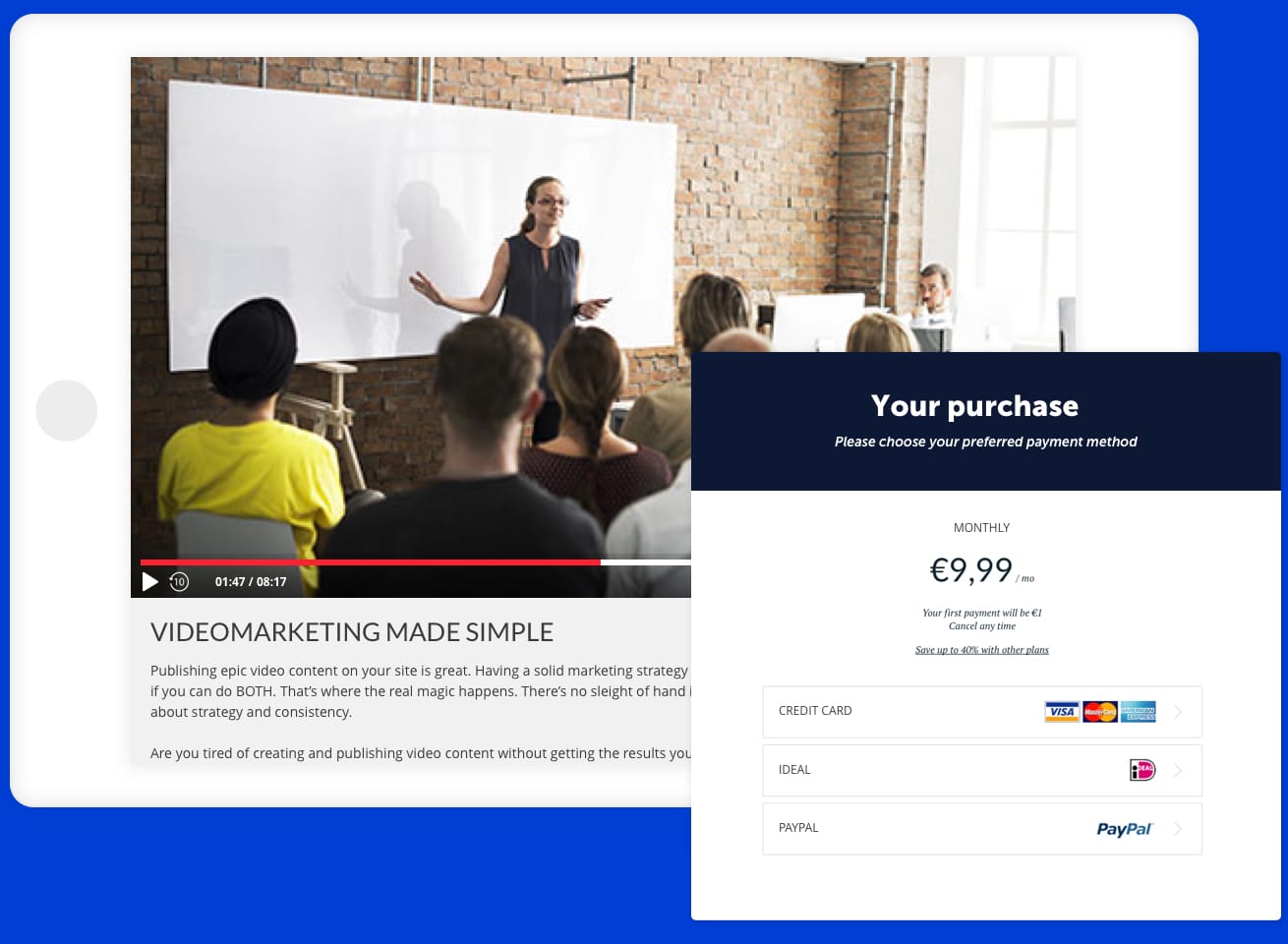 Sell your videos — live and on demand
Integrate VIXY into your own services or app. Do you want to launch your own live or on-demand video service and generate income with pay-per-view (TVOD) and subscription video (SVOD)?
Integrate VIXY and a payment provider like Stripe or Adyen into your website or app and start your own video on demand service.
Convert viewers into buyers with interactive video
Turn spectators into shoppers with calls-to-action in your video player, such as clickable buttons, links, products, contact forms, and brochures.
This allows you to direct your viewers to the next step as they watch your video. A few ideas: opening an external website or app, placing a product in the shopping cart, linking to other videos, making contact, downloading documents, or opening an interactive video menu.
Subsequently, event tracking shows you which videos the viewers find interesting and what they're clicking on. This helps you know exactly which videos convert well.
Buttons, links & product overlays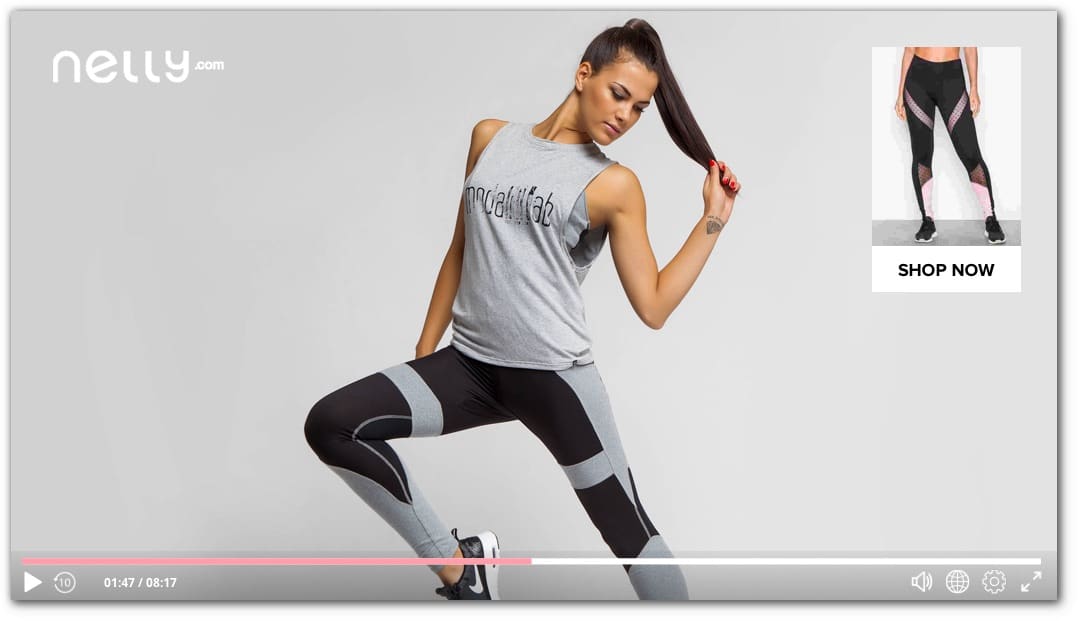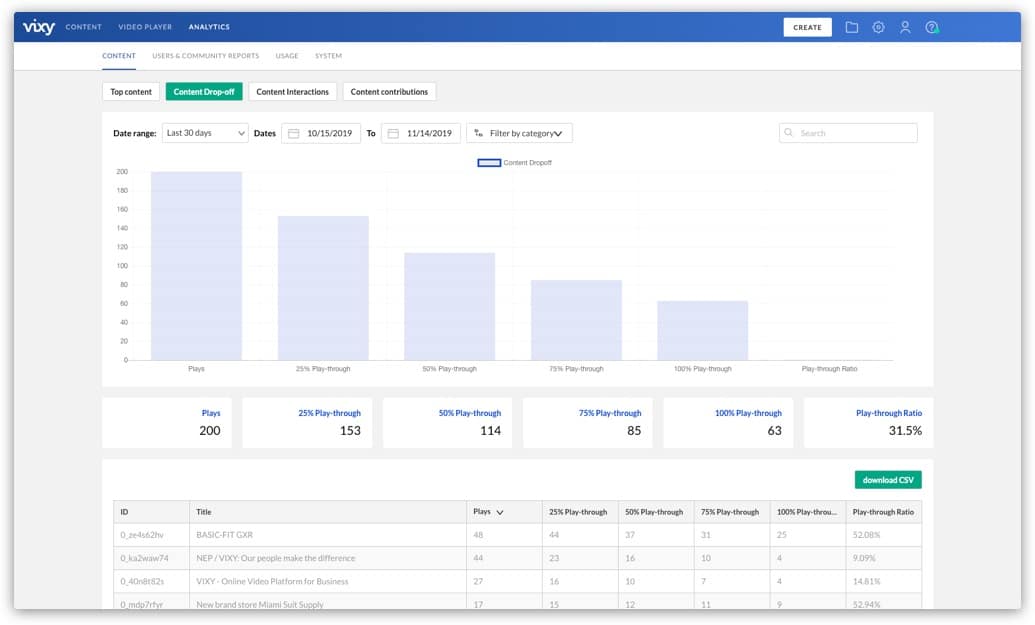 Extensive information about your video's results
Use our reports to acquire business insight, better understand trends, and see how successful your content strategy is.
Increase your knowledge of your best-performing content, the viewing behavior of your users, the channels and devices that your videos are viewed on, geographical playback, and conversion ratios.
With just a few clicks, you can see all the details regarding the performance of a certain video, a category, or a time frame.
Advanced event tracking via Google Analytics
Add the Google Analytics code of your website to your video player to gain insight into the customer journey of the visitors on your website. This gives you answers to questions such as: through which channels does my target group end up on the website and what actions do my viewers perform during or directly after watching a video.
The VIXY video player has standard advanced event tracking functionality with which statistics of all events in the player are sent back to Google Analytics.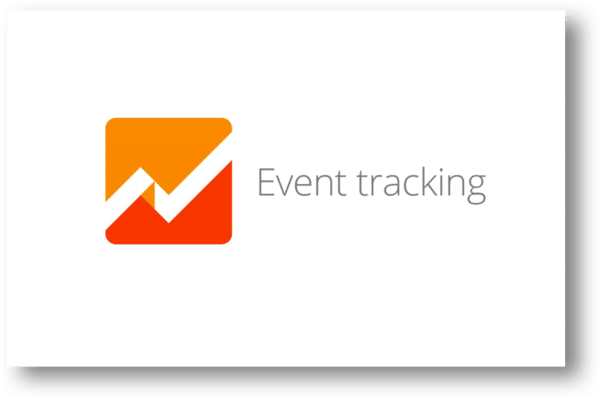 Take that extra step: integrate VIXY with your own statistics provider
Are you already using other web analytics? The reports from VIXY can be easily integrated with all prominent statistics suppliers on the market, such as: Google Analytics, Adobe Omniture, Level3, Comscore, Nielsen, Conviva, Akamai and Youbora.
As a result, you get precisely the statistics of videos and users that are interesting for your company.
Request a 21-day free trial
Not yet convinced what VIXY can do for you as an organisation? Request a 21-day free trial account now and see for yourself how easy it is to get started.
Our client cases
Our driven, experienced team will gladly work with you and help you take the next step in your video content strategy. Read through some of our clients' inspiring stories!